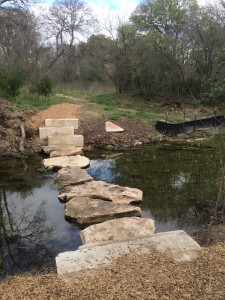 Please join us for the Grand Opening of the West Bouldin Creek Greenbelt Rock Hop on June 4th, at 10 am, 1200 South 6th Street.
The BCNA Parks Committee has worked with the Austin Parks and Recreation Department (PARD) for almost four years to create an inviting entrance to the greenbelt, including an easier way to cross the creek without getting your feet wet (at least on most days). Please join us to look at the resulting plaza and our new rock hop.
Mayor ProTem Kathie Tovo, who served as the president of our neighborhood association when these plans for were first discussed, will officially open the crossing. Other invited guests include representatives from PARD, the Watershed Protection Department, Keep Austin Beautiful and the Austin Parks Foundation, as well as residents from the Zilker Neighborhood Association with whom we share the greenbelt.
Light refreshments will be served. In addition to celebrating work done so far, we will also unveil plans for a nature trail system in the greenbelt and ask for residents' input. We are not planning to add infrastructure, but rather make it easier for more people to enjoy the green space.
After the ceremony, we will give tours of the existing trails that we hope to improve.