About
Founded in 1971, the Bouldin Creek Neighborhood Association (BCNA) is one of the city's oldest area resident groups. Today, the neighborhood contains over 5,600 residents and includes Auditorium Shores, The Long Center for the Performing Arts, and the Lester E. Palmer Community Events Center.
Bouldin Creek's most unique assets are its residents. From its historic south-of-the-river, second-class status, the neighborhood has become home to diverse cultural groups ranging from decades-old residents to new tenants; from old hippies to young techies. The result is an eclectic and vibrant mix of residents.
Boundaries
The Bouldin Creek neighborhood, as well as the BCNA, is bordered by Lady Bird Lake on the north, the Union Pacific Railroad Tracks on the west, Oltorf Street on the south, and South Congress Avenue on the east.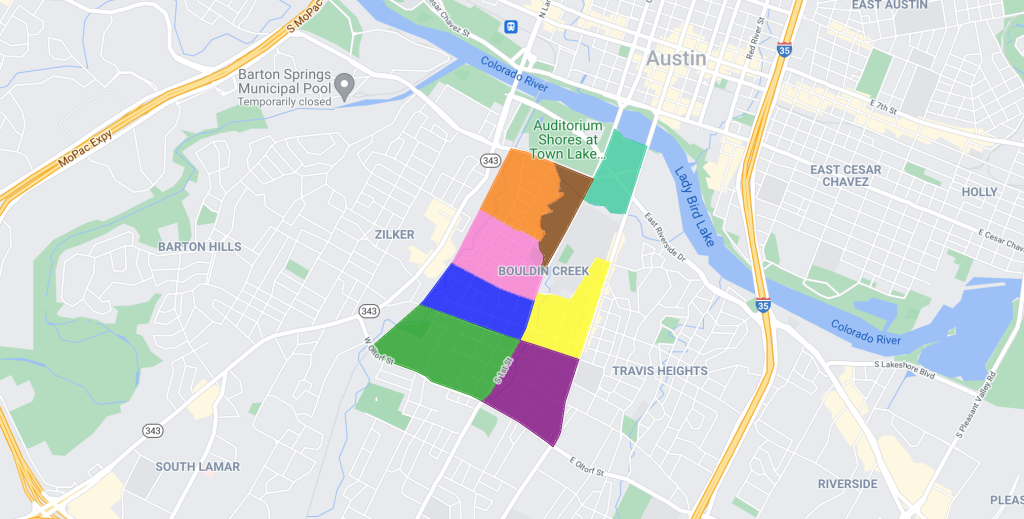 Communications
The BCNA reaches out to neighborhood residents by
Hosting General Assocation meetings, which are expected to be held at 6:45 PM on second (2nd) Tuesday every third (3rd) month via Zoom
Encouraging residents to join the BCNA e-mail list
Publishing the Bouldin Bulletin, the periodic neighborhood newsletter
Bylaws
To learn more about how the BCNA operates, consult the current bylaws
Schools
Becker Elementary is the home elementary school for a large portion of the neighborhood, and some of the area contributes to Travis Heights Elementary. Lively Middle School and William B Travis High School also serve our community.
History
One of Austin's oldest neighborhoods, the land comprising Bouldin Creek was originally deeded to Isaac Decker in 1735. Bouldin Creek became a neighborhood in the early 1900's, with several historic homes from that time still standing. A great deal of neighborhood growth occurred in the 1920s and 1930s. A 1910 street map shows Bouldin as nearly uninhabited, whereas a 1920 map shows it as Austin's southernmost "suburb."
Before post-war damming and flood control, real estate south of the river was cheap, partially due to frequent Colorado River flooding, which often left residents and businesses unable to reach downtown. As a result, many black families made their homes in the Bouldin Creek neighborhood, establishing churches such as the 1916 St. Anne African Methodist Episcopal Church and the nearby Goodwill Baptist Church.
Bouldin Creek was home to one of Austin's most famous voices, the late speaker, writer, and first amendment rights activist John Henry Faulk. The boyhood residence of Faulk, the landmark 1894 Victorian mansion of Dr. E.W. Herndon, is now occupied by the Green Pastures Restaurant. Other neighborhood notables include the baseball great Willy Wells and UT Tower gunman Charles Whitman.
The neighborhood's largest institutional resident is the Texas School for the Deaf. Established in 1856, the school's 65 acre campus stretches between South Congress and South First Street and from Barton Springs Road to Elizabeth Street. While the original school building was demolished in 1956, an ambitious expansion and renovation program began at the school in 1992 and continues to this day.