Tuesday, October 10th – 6:45 pm
TEXAS SCHOOL FOR THE DEAF Admin. & Welcome Center, 2nd Floor Conference Room (Map below)
Due to security at Texas School for the Deaf, School staff have asked that we send a list of attendees prior to the meeting. This will also expedite access to the grounds thru the gate off Elizabeth Street.
Note: If you plan to attend please send a email to Matt Coldwell at vp-internal@bouldincreek.org.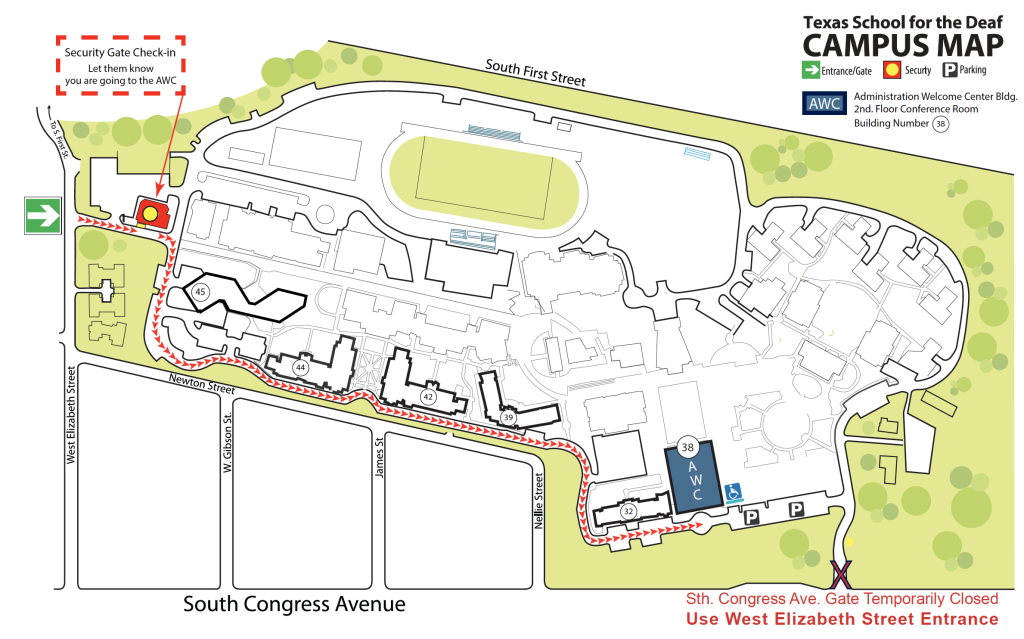 AGENDA ITEMS:
Meeting Called to Order & Introductions – Thom Parker
Appetizers and Beverages served prior to Meeting.
Regular Business:
Approval of June 13th, General Association Meeting Minutes – Mathew Coldwell
Treasurer's Report – Year to Date (Operations & Parks Budgets) – Isaac Cohen

Investment of Association Funds

Community Engagement • 2023 Membership Drive Updates
Communications Report Rebecca Harrell

Bulletin Content, Mailing, and Advertising

Parks & Green Spaces Committee Updates – Ingrid Weigand

Parks Funds for Oak Wilt remediation, resident cost sharing

Zoning Committee Update – Jody Zemel •

700 Dawson (High Road) – Planning Commission

Traffic, Safety & Parking Committee – Jeff Seiden

Update to – So. Co. PTMD implementation and enforcement

Homeless and Unhoused Working Group Update – Ingrid Weigand

Update on HEAL Initiative for removal of WBCGB encampments.
Sustainable enforcement and WBCGB restoration
Other Business:
Upcoming Events:
Austin City Limits – October 6-8th and 13-15th. Expect heavy traffic.
Food and Wine Festival, Auditorium Shores, Sat, Nov. 4, – Sun, Nov. 5, 1:00 PM to 6:00 PM
Jr. League Christmas Affair – Nov. 15 thru 19th, Palmer Event Center.

Note: RPP Only temporary signs installed on Bouldin Ave. 11/14 – 11/19.