All the News that Fits October 2020

All the News that Fits October 2020
August-some call this "the dog days of summer", October getting somewhat better-
if the pumpkins don't collapse on Halloween?
Other critters apparently agree…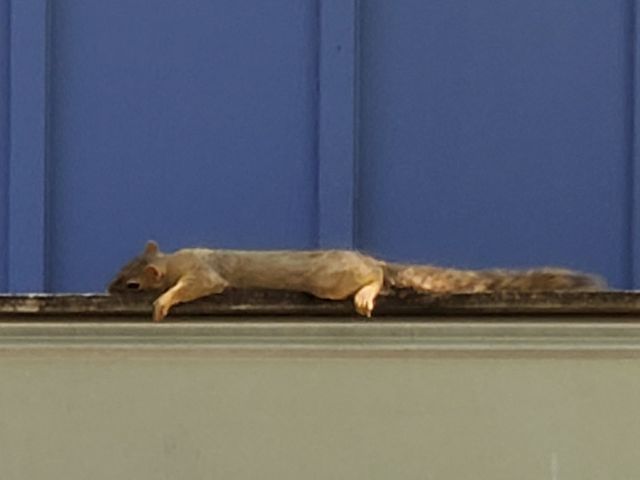 NEWS:
BCNA Steering Committee Meeting will be held Monday October 5th
at 6:30 pm via Zoom
Agenda as available.
Join via app: https://us02web.zoom.us/j/83067337962
Join via phone: +13462487799,,83067337962#
BCNA General Association Meeting will be held October 13th
at 6:45 pm via Zoom
Agenda as available.
Join via app: https://us02web.zoom.us/j/83067337962
Join via phone: +13462487799,,83067337962#
Bouldin Bulletin
Hey neighbors,
here's the latest Bouldin Bulletin, which most of you will be seeing in print, delivered to your door in the next week or so. This our first time to do the paper print version of the Bulletin since the February issue. Enjoy!
Hot off the press is the October-November Bouldin Bulletin.
The same good stuff you might have read while drinking a cup of coffee —but in digital form. Available HERE
. Thanks to John Shobe, our Publisher, Ronnie Dittmar, editor, and Rob Clayton our web admin.,for bringing us into the world of digital publishing – a potentially more mobile-friendly, color, version of the Bouldin Bulletin.
Thanks to all our stalwart delivery folks for walking the neighborhood safely!
Also thanks to neighbors for articles and to our advertisers.
New By-laws Amendment
An anti-racism & anti-discrimination amendment to the BCNA by-laws had its first reading at the August, 2020 General Association meeting. The new amendment adds more clarification and strength about our purpose and goals.The new amendment underscores our commitment to condemn racism and support changes that lead toward diversity, inclusion and ending racism against any person or group at large. The BCNA includes all residents within its boundaries and has since its inception over 40 years ago.
For a glimpse of the full text and its incorporation into the existing by-laws please go HERE:
Algae along Lady Bird Lake– keep your dogs safe!
w/link HERE
West Nile virus
Austin, Texas – The year's first positive pool of mosquitoes carrying West Nile Virus has been identified in Travis County. w/link HERE
Walk your property and empty any standing water!
Covid-19
It's up to us! Follow the city's guidelines as it is still alive and spreading!
http://www.austintexas.gov/covid19
And stay sane!
Hello Bouldin,
It's back! The Bouldin Stroll is coming back this Thursday, Oct 1st from 6-8pm! I'll send an email out on Thursday (with a special treat), but wanted to send a quick note so anyone planning on setting up a table or offering some other enticement has a little bit of warning. More info coming Thursday. Looking forward to seeing everyone out and about again.
Kate Francis
VP Neighborhood Issues for the Bouldin Creek Neighborhood Association
CoA Recycle and Reuse Drop-off Center
Beginning Tuesday, September 8, 2020 the Recycle and Reuse Drop-off Center
(RRDOC) will reopen by appointment only, following a temporary closure in March 2020 due to COVID-19 concerns. The RRDOC will resume its acceptance of hard to recycle items such as Styrofoam and plastic film, as well as household hazardous waste. Austin/ Travis County residents are asked to call (512) 974-4343 to schedule a drop-off time.
A letter from our SoCo Business neighbor Brandon Hodge, President, South Congress Merchants Association
Howdy, neighbors!
It's no secret that during these unprecedented times that the small businesses that are the standard-bearers for our local economy are hurting like never before. The iconic local shops, clubs, and restaurants that make Austin Austin are under a threat unlike any we've ever faced. Your small business-owning neighbors are fighting to keep the landscape of local businesses and shopping districts from being irrevocably changed, and it is something that can only happen with the help and support of our community. As you face the challenges of your own day-to-say struggles during Covid-19, we hope you will consider how vitally important it is to choose local options to help see you through. Many South Congress businesses remain open to serve your needs, more often than not operating at a loss as we try to maintain employment for our staff and stay afloat to continue serving our loyal customers. We hope we can count you among them. Please consider your continued and ongoing support of South Congress shops and restaurants in the upcoming months, whether it be grabbing some curbside food, coffee, or cocktails to-go from local institutions like Enoteca, Vespiao, Homeslice, Farm to Market, or Guero's, replacing those worn-out Covid comfort-clothes at Co-Star or By George, or grabbing gifts for those birthdays and events that are still happening from our local retailers like Parts & Labour, Maya*, Tesoros, or Monkey See, Monkey Do!
Lots of businesses are offering specials and incentives, and we encourage to not only follow your favorites on social media to keep in touch, but keep an eye out for the community SoCo social media that puts everything all in one place, which you can find on Instagram at: @southcongressatx and on Facebook at: m.facebook.com/SouthCongress
Austin is home to us all, and safely preserving what we've all built together is the only way out. We hope to see you 'round SoCo!
Brandon Hodge, President, South Congress Merchants Association
SUFFRAGE NOW- August 6-January 31
SUFFRAGE NOW: A 19th Amendment Centennial Exhibition at the Elisabet Ney Museum
Centennial of the Ratification of the 19th Amendment. Ratified August 18, 1920
The passage of the Nineteenth Amendment in 1920 guaranteed women the right to vote.
Presented at Elisabet Ney Museum
https://www.austintexas.gov/department/elisabet-ney-museum
From slavery to women's rights!
13th Amendment 1865 "Neither slavery nor involuntary servitude, except as a
punishment for crime whereof the party shall have been duly convicted, shall exist
within the United States, or any place subject to their jurisdiction."
14th Amendment 1868
approved by Congress in 1866 and ratified in 1868, granted citizenship to all persons
"born or naturalized in the United States," including former slaves, and guaranteed
"equal protection of the laws" to all citizens.
15th Amendment 1870 granted Black men the right to vote
which stated that voting rights could not be "denied or abridged by the United States or
by any state on account of race, color, or previous condition of servitude."
19th Amendment 1920 guaranteed women the right to vote.
(Only took another 50 years!)
EVENTS DOWN THE HILL
Whether you're interested in avoiding traffic, parking issues, or strolling to a good time, here are the websites to discover the goings on and of which to be aware:
LONG CENTER
http://thelongcenter.org/events/
PALMER AUDITORIUM
https://www.palmereventscenter.com/events/
BCNA Meeting Schedules:
Note: All meetings subject to change during current health regulations.
Currently meetings are arranged via Zoom meetings.
BCNA General Association Meeting:
2ndTuesday, every other month
BCNA Steering Committee Meeting:
1st Monday, each month
BCNA Zoning Committee Meeting:
3rd Monday each month
Meetings at 6:45pm
The High Road, 700 Dawson Road-when back to normal?
Bouldin Forum Listserve To Subscribe, please email: bouldinforum-subscribe@yahoogroups.com. Be sure to include your full name and address of residence in Bouldin Creek.