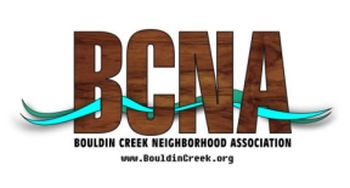 General Association Meeting and Officer Elections
Neighbors,
Just to take your minds off the Presidential elections coming up, let's talk about BCNA elections:
As every year, we will hold Officer and Sector Rep elections at our December 8 meeting. Anyone who wants to run for a position or vote needs to be a registered member of our association by November 30. If you are not registered – or not sure whether you are — please contact the BCNA Treasurer, Ronnie Dittmar, at treasurer@bouldincreek.org. All he needs is your name and address.
Below are all positions with a short job description. Please note that we voted to change some of the Sector boundaries at the last General Association meeting and created a new one – Aqua.
New Sector boundaries descriptions are attached HERE along with map HERE.
The purpose of these changes is to have clear, easy to remember borders that include all residences of Bouldin Creek. This does not address the populations of each zone.
(A big thanks to Kate Francis, Stephanie Scholten and Matt Coldwell for working on this.)
We do have a few candidates at this point, but we are not yet going to list them – competition is good!
If you have are considering running for any of the positions or have questions about the roles, please contact a member of the Election Committee:
Paul Strange – strange20@msn..com
Ingrid Weigand – ingweig@gmail.com
Thank you,
Paul and Ingrid
BCNA Elections Committee
The President is the primary spokesperson of the BCNA. S/he presides at all meetings of BCNA general membership and the Steering Committee, makes appointments with the advice and consent of the Policy Board, and cosigns all checks drawn on the account of BCNA.
The Vice President – Neighborhood Issues shall assist and support committees related to zoning, development, parks and traffic. S/he will preside at BCNA meetings when necessary due to the absence of the president.
The Vice President – External Affairs shall assist and support activities related to community ambassadors, neighborhood wide social events, creek clean ups, neighborhood outreach, resource persons and serves as the Austin Neighborhood Council Representative.
The Communications Director – shall assist with and support activities related to information dissemination, newsletter publication, web sites and other mass media.
The Treasurer – shall assist and support activities related to finance, including account record keeping, fund deposit and withdrawals, and other related business management with respect to fundraising. The Treasurer shall cosign all checks drawn on the account of BCNA; s/he will give a full report of all accounts on a monthly basis to the Steering Committee and shall keep the General Association apprised of all transactions to the BCNA accounts.
The Secretary shall record minutes of the General Association Meeting and the Steering Committee meetings, as well as assist and support activities related to record and agenda keeping, membership validation, and database managing.
Sector Representatives – must live in the sectors they represent. They are they eyes and ears of their area and will represent concerns and issues at the Steering Committee. They will also coordinate delivery of the BCNA newsletter in their Sector.
Bouldinforum@Yahoogroups, moving to BCNAForum@groups.io
Neighbors,
As you might know, Yahoo Groups will cease to exist by the end of this year. After some research, we have decided to move the BCNA listserve to Groups.io.
In order to make the process as seamless as possible, one of the Group Moderators will download a list of all current active Yahoo Group members and upload it to groups.io
You will receive an invitation to participate which you need to accept in order to activate your membership.
When you click on the link, you can set your password to the group and make a choice of how to receive your e-mails:
1) Each individual one
2) Digest – you receive an e-mail once there are more 12 messages
3) Daily – you'll receive a daily e-mail with all notifications
4) Special Notices only
As a reminder, I am attaching a copy of BCNA's Netiquette which was approved at last week's General Association meeting HERE

Thank you,
Jesse Moore
President, BCNA
Pumpkin Carving Contest
Hello Bouldin! Ready to carve some pumpkins? The BCNA is sponsoring a pumpkin carving contest with gift card prizes!
1st prize: a $25 gift card to Home Slice Pizza
2nd prize: a $15 gift card to Amy's Ice Cream
3rd prize: a $10 gift card to Once Over Coffee
What do you need to do? Carve your pumpkin and email a photo of it to me by October 30th. You can submit as many pumpkins as you want – no limit! But they do have to be carved by you or your family, and you must reside in Bouldin Creek.
Winners will be announced on Halloween via the forum or website, and the winning designs will be posted or emailed for all to admire.
I know we have a ton of creativity in this neighborhood, so really looking forward to what you come up with! Please email me with questions or submissions.
Kate Francis kmfrancis2@gmail.com
VP of Neighborhood Issues