BCNA General Association Meeting October 13, 2020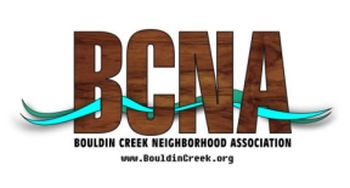 Hello neighbors–Hope everyone is doing well. There will be a remote BCNA meeting next Tuesday, October 13 starting at 6:45 via Zoom. Links and info for the remote meeting and agenda below. Look forward to seeing you there. Thanks–Jesse, BCNA Prez
To Join:
Join via app: https://us02web.zoom.us/j/83067337962
Join via phone: +1-346-248-7799, access code 830-673-37962#
Agenda:
6:45–Convene
6:50–Update on BCNA donations, SoCo parking study, & Schlotzsky's PUD vote plus note on upcoming bond elections
6:55–Discussion of Art-In-Public Places online survey
7:00–Discussion of 2021 meeting schedule (considering 4 meetings per year rather than 6)
7:05–Discussion of upcoming BCNA elections
7:10–Final vote on by-law amendment and brief update on ad-hoc research committee
7:15–Discussion of change to online Bouldin Forum and vote on recommended guidelines (see guidelines that are hopefully attached)
7:25–Discussion and vote on recommendation to change sector boundaries & add a sector (see map that is hopefully attached)
7:35–Discussion of end of "Safe Streets" Program and potential vote to extend same
7:45–Adjourn
Minutes HERE
BCNA Meeting Schedules:
Note: All meetings subject to change during current health regulations.
Currently meetings are arranged via Zoom meetings.
More information as available.
BCNA General Association Meeting:
2ndTuesday, every other month
BCNA Steering Committee Meeting:
1st Monday, each month
BCNA Zoning Committee Meeting:
3rd Monday each month
Meetings at 6:45pm
The High Road, 700 Dawson Road-when back to normal?
Bouldin Forum Listserve
To Subscribe, please email: bouldinforum-subscribe@yahoogroups.com. Be sure to include your full name and address of residence in Bouldin Creek.