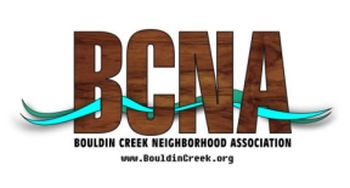 BCNA Steering Committee Meeting will be held Monday October 5th at 6:30 pm via Zoom. Information below.
Agenda:
6:45—Call to Order:
Administrative Business, approve prior minutes for July SC meetings
6:50—Communications Update, including listserv roll-out
–Discussion and potential vote on recommendation re: listserv guidelines
7:05—Zoning Comm. update, including:
–Discussion and potential vote on recommendation re: Schlotzsky's PUD
–Discussion of Copeland rezoning request
7:20—Discussion and potential vote on recommendation re: Butler Shores overnight trail lighting for segment between Daugherty Arts & Riverside Dr.
7:25–Discussion of pros & cons of 501(c)(3) conversion (I propose deferring this decision to a later date)
7:30–Discussion and potential vote on peacocks-welcome-related expenditures
7:35–By-law amendment discussion and potential vote
–Discussion of area names & history
7:40–Park Committee update, including discussion of Art in Public Places South Lamar project
7:45–Traffic Safety & Parking update
–discussion of Dawson lane striping (it is possible that lane striping decreases safety and encourages speeding by defining a lane for motorists to decide they own: https://www.strongtowns.org/journal/2016/10/31/ask-r-moses-does-center-line-striping-make-streets-safer)
–discussion of South Congress parking study
7:50–Other committee & Sector updates & August GA meeting planning
7:55—Adjourn
Join via app: https://us02web.zoom.us/j/83067337962
Join via phone: +13462487799,,83067337962
Minutes HERE
BCNA Meeting Schedules:
Note: All meetings subject to change during current health regulations.
Currently meetings are arranged via Zoom meetings.
More information as available.
BCNA General Association Meeting:
2ndTuesday, every other month
BCNA Steering Committee Meeting:
1st Monday, each month
BCNA Zoning Committee Meeting:
3rd Monday each month
Meetings at 6:45pm
The High Road, 700 Dawson Road-when back to normal?
Bouldin Forum Listserve
To Subscribe, please email: bouldinforum-subscribe@yahoogroups.com. Be sure to include your full name and address of residence in Bouldin Creek.