BCNA General Membership Meeting Dec. 11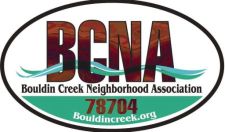 Hello neighbors–Here is the agenda for our December 11 BCNA General Membership meeting.
at The High Road on Dawson (700 Dawson Rd.):
–6:45 to 6:55–introductions
–6:55 to 7:25–elections
–7:25 to 7:35–Parks Committee update, including discussion &             vote on resolution supporting additional trails and trans-railroad connectivity for West Bouldin  Creek Greenbelt
–7:35 to 7:40–vote on annual contribution to our gracious host,            The   High Road on Dawson
–7:40 to 7:45–Traffic, Safety, & Parking Committee update
–7:45 to 7:55–Zoning Committee update, including brief update on Green Pastures
–7:55 to 8:10–Presentation on upcoming park & playscape                       improvements at Butler Park
–8:10–adjourn
Hope to see you all there, thanks!–Jesse, BCNA Prez
Neighbors,
BCNA will hold annual Officer and Sector Representative elections on Tuesday, December 11,
at the General Association Meeting.
We published most candidate statements in the BCNA newsletter that you should have received by now.
However, some neighbors have announced their candidacy since then, so I am re-sending all statements.
With 13 positions on the ballot, that makes for a lot of reading.
I am therefore breaking them down into several e-mails:
President,
Director of Communications
VP Neighborhood Issues and VP External Affairs
Treasurer, Secretary
Green & Lavender Sector Reps
Blue & Yellow Sector Reps
Pink & Brown Sector Reps
Orange Sector – STILL NEED CANDIDATE
Thanks,
Ingrid Weigand
Member, BCNA Elections Committee