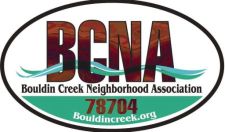 The Bouldin Creek Neighborhood Association will
hold its annual officers election at the next General
Association Meeting on Tuesday, December 12.
In order to vote in the election or to run for an office,
you have to be a registered member of the neighbor
-hood organization. The deadline for registering prior
to the elections is November 30. Please contact our
treasurer at treasurer@bouldincreek.org
to sign up or to check whether your registration is
current.
Agenda and further information coming-stay tuned!
————————-<>—————–
Bouldin Bulletin for December-January 2017
  The same good stuff you might have read while drinking a cup of coffee —but in digital form, a potentially more mobile-friendly, color, version of the Bouldin Bulletin. Available on the adobe cloud with links to our advertisers.                                                                                      Bouldin Bulletin on adobe cloud is available HERE
Bulletin is also archived on our server HERE                                                      Headlines: Warren Wildlife Gallery, CodeNEXT, PSW agreement, Parks updates and more!
—————————–<>————————-
Palmer Heavy Traffic December 2017 here
EVENTS DOWN THE HILL
Whether you're interested in avoiding traffic, parking issues, or strolling to a good time, here are the websites to discover the goings-on of which to be aware:
LONG CENTER
http://thelongcenter.org/events/
PALMER AUDITORIUM
https://www.palmereventscenter.com/calendar/2017/12/

—————————<>———————-
It's My Park Day Fall 2017-a success!

Neighbors,
16 neighborhood and community volunteers met this morning at the West Bouldin Creek Greenbelt to widen and repair trails, collect trash and remove some fallen tress along the paths. Go check it out!
The Austin Parks Foundation awarded us grant money last year to have the trails rebuilt. They looked wonderful right afterwards, but, as expected, small weeds and bushes started encroaching almost immediately, narrowing the paths again. In return for receiving the money, we had committed to maintaining the trails at least twice annually. Having a group of people come in and widen the paths again is one way of keeping the trails open; another one is to use them more frequently and have people walk side by side rather than single file and step on the edges.                                                                                  So, please do your part: walk, hike, bike the greenbelt; take your kids and your dogs and enjoy!
At the same time as we were in the greenbelt, volunteers from Corinna's Austin AmeriCorpsAlums group  cleaned up trash in Ricky Guerrero. Thank you!
Ingrid Weigand                                                                                                                  BCNA Parks Committee                                                                                                    512-663-4632
Photos coming!
————————————<>——————————                                                                                                                                               Nicholas Dawson Park clean up 10-21-2017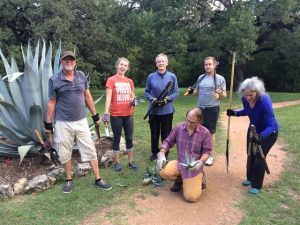 Thanks to everyone who came out Saturday to weed beds in Nicholas Dawson Park on the Gibson Street side. Beds are clean and good looking, bushes were trimmed. (Some blood was shed due to unappreciative agaves as well, but that's how it goes.) Thanks Cheryl, Laura, David, John, John and Matt!
If you missed it but still want to help, please sign up for It's My Park Day on November 4 – we'll be working on the trails in the West Bouldin Creek Greenbelt. You can register on the Austin Parks Foundation's website at  https://givepul.se/u8ume                              Ingrid Weigand                                                                                                                 BCNA Parks Committee                                                                          512-663-4632
—————–<>—————–
Update on Special Event Resident Permit Parking Permit proposed changes:
As referenced earlier the City of Austin in consultation with the Parkland Events Task Force has proposed changes to special event neighborhood parking.  Residents and stakeholders attended an open house held on July 13th where the proposed Ordinance was vetted.  Austin Transportation Department will take the proposed Ordinance before the City Council on November 9th. The council will review the Ordinance, parking fines and associated fees required of Special Event sponsors.  At this printing, implementation of the adopted Ordinance will take place in the spring of 2018.
For more information regarding Special Event Resident Parking Permit Ordinance visit:
http://austintexas.gov/page/event-parking-program
---
Older Bulletin Issues Here:
 Bouldin Bulletin for August-September 2017
Bouldin Bulletin on Adobe Cloud is available  HERE
Bouldin Bulletin is also archived on our server HERE
Headlines:
Mayor Adler to Address BCNA on CodeNEXT at August Meeting and Presidents Message on CodeNEXT                                                             Update on Parkland Events Task-force (PETF) from Thom Parker
————–<>————-                                                                                                   Meeting Schedules, agendas and minutes at blog post below.