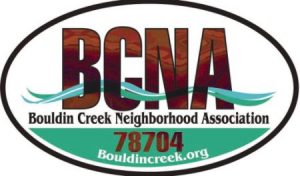 BCNA Steering Committee meeting                              April 2nd, 2018                                                                        6:45pm at the High Road,  700 Dawson Road
 BCNA Steering Committee Minutes
Minutes:
Multifamily outreach:
Neighbors @ Wilson between Live Oak and Oltorf will report problems with trash not getting picked up to President of tenants association.
Newsletters and signs are going out for GA meeting.
501-c-4:
Not moving on this as it's a project for the Summer.
Parks committee
Saturday, April 14 will be a work day to widen the trail and spread the mulch. Parks committee will call for volunteers.
Zoning committee
Hooter's PUD/SCWAB update:
South Austin Coalition CDC (SACCDC) is applying for 501C3 status. Then they intend to apply for grant money from the Downtown Alliance to allocate some affordability funding towards South Austin activities, particularly low income housing.
Each of the seven (7) SACCDC neighborhoods are invited to have a seat on a board involved with this issue. For more info on the PID and CDC involvement, see discussion from Kathy Tovo in "item number 82" on the last City Council meeting minutes.
BCNA will tentatively discuss CDC in June.
Warren CUP update:
Pink zone provided a write-up on their position regarding BCNA/Warren negotiation.
Robert to discuss the possibility of a subcommittee with the ad hoc group of immediate neighbors. If subcommittee is formed and a compromise is proposed, subcommittee would evaluate, then steering committee would evaluate if a GA vote is warranted.
Green Pastures update:
Green Pastures does not currently plan to apply for a music permit, They do plan to put an independent survey in neighbors' mailboxes. If plans to apply for music permit change, they will comply with CoA application rules.
1603 S. 3rd variance:
ZC recommends supporting the 1603 S 3rd St variance application. Steering committee voted in favor of supporting the variance.
GA meeting planning
Next meeting will be focused on CodeNext.
CoA composting and recycling will have some time.
Add announcement regarding Austin Mobility call for feedback.
BCNA CodeNext
Resolution Draft:
– Modifications and additions were proposed and integrated into the draft.
Steering committee put to a vote to adopt this position:  2 opposed, 11 in favor. Position was adopted.
8:30  motion to adjourn was passed
Comments
comments
Powered by Facebook Comments